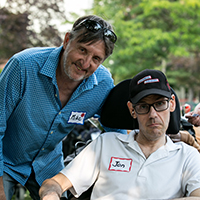 PACE is a non profit community support service organization that provides support services to adults with disabilities.
PACE became an accredited agency with Accreditation Canada in 2010. Accreditation Canada is an organization that works with health care organizations to improve quality, safety, staff and client experience and satisfaction.  PACE uses Accreditation Canada's program as the basis for continuous quality improvement. In 2013, PACE was awarded the status of "Accredited with Commendation". The commendation recognition means that we not only met the basic requirements but, surpassed them. This is an upgrade of our initial "Accredited" status.  Now in June 2017 - PACE has been accredited with "Exemplary Standing" which is the highest recognition standing.  
PACE's services to Clients are provided in a manner that is consistent with the philosophy of 'Independent Living'.
PACE provides support services to more than 300 Clients, who have a variety of disabilities, i.e. multiple sclerosis, cerebral palsy, spinal cord injuries, mild acquired brain injuries, muscular dystrophy and Huntington disease.
PACE provides services to Clients in nine Supportive Housing Units and through our Attendant Outreach Program.