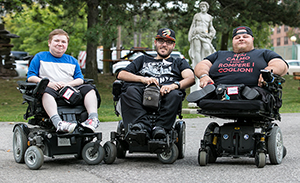 Attendant Outreach Services
PACE provides personal support services to adults with disabilities.  Services are provided on a pre-booked basis.  These services are provided between the hours of 6:00 a.m. to midnight, seven-days a week and can be offered in the individual's home, school or workplace.
Eligibility criteria
To be eligible applicants must:
Be insured under the health Insurance Act of Ontario (i.e. possess a valid Ontario Health Card)
Be at least 16 years of age or older
Have a permanent physical disability and require physical assistance with activities of daily living such as bathing, dressing, transferring and toileting.  We provide services to individuals with a variety of disabilities including, but, not limited to multiple sclerosis, cerebral palsy, spinal cord injuries, acquired brain injuries, muscular dystrophy and Huntington disease.
Be able to direct their own services. This means communicating and training the staff about what you want done, when you want it done and how.
Be able to have any medical/professional needs met in the community
The process to receive services
PACE is one of nine service providers that work together to assess applicants applying for attendant outreach personal support services who live in the city of Toronto.  Interested individuals need to complete and submit the Attendant Service application.  The completed application is sent directly to the Attendant Service Application Centre (ASAC) at the Centre for Independent Living in Toronto (CILT) for processing.  The ASAC manages the application process and the waiting list on behalf of the five participating agencies.  Should you require assistance with the application - visit the ASAC Application guide for more information.
Once the assessment process has been completed, eligible applicants are placed on a waiting list until a service provider with available service hours can meet their service requirements.  The assessment process takes approximately 1.5 hours.  Hours or service are assigned on the basis of need, as determined by the outcome of the assessment.
Applicants must require assistance with activities of daily living in order to be considered eligible for attendant outreach services, (i.e. bathing, meal preparation), and applicants who require homemaking assistance only are not eligible to receive attendant outreach services.
How the waitlist for services is prioritized
Priority is currently being given to applicants who:
are in, attempting to leave, or have left an abusive situation;
are being discharged from a hospital or another health service facility, or is at risk of being admitted to a facility if the applicant does not have attendant outreach services;
if the personal support system is failing or absent (e.g. living alone or with dependent children / aging parent
requires attendant outreach services to attend school or to maintain employment; or
are in a situation where their safety is at risk due to lack of services
PACE provides the following services (including but, not limited to):
Personal Assistance:
Lifts/transfers
Bowel and bladder
Dressing and undressing
Skin care (bed turns, general and non-sterile dressings, skin checks)
General hygiene (bath/shower, grooming, nail care, peri-care, menstrual care)
Sexual assistance
General Assistance:
Meal preparation and clean up (cooking, cutting up food, assistance with eating, G-tube, drinks, splints)
Light housekeeping (this would be cleaning up as part of the regular service for example – after making a meal).
 Laundry
Nurturing Assistance
Escorts
Communication support (opening email, telephone assistance)
Routine maintenance of assistive devices, personal vehicle, alternative and augmentative (AAC) equipment
Pet and service animal assistance
Wellness assistance:
Respiration (ventilator, bi-pap)
Physical assistance with taking medication
Range of motion exercises
Approved applicants are eligible to receive up to 21 hours of personal support/week maximum unless PACE approval has been given.  The number of hours of service provided is determined through the assessment.